AUD USD - Currency Trend Chart
Automatically generated trend forecast and buy sell signals for forex and currencies. Updated daily.
» Back to Trend Forecast Main Menu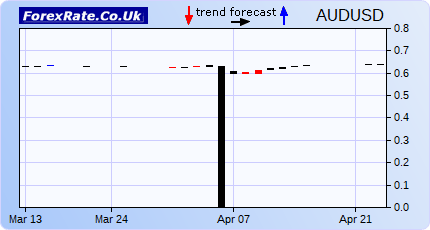 AUDUSD 2023-12-01
Todays Stock Signal - Trend Forecast
Date
Signal
Price
2023-12-01

Trend Up

0.66750
Our trend forecaster has posted another TREND UP signal today confirming the buying pressure.

To find out more about this signal please read Signal Descriptions

If the price has failed to break above the original TREND UP signal bar in this trend, watch carefully for a breakout now.
If we are trending above the first signal watch for further breaks above bar highs for continued confirmation.

Alternatively, watch for early signs of trend failure with a close BELOW a previous TREND UP signal bar



Please be aware you use this forecast at your own risk, it is for information purposes only and forecasts are not a recommendation to buy or sell a stock, index or future contract. Please read signal descriptions for further understanding of the forecasts.
Providing the latest Foreign Exchange rates and information for the UK.
Live Currency Rates
Live Streaming Quotes
Forex Tools and Data
Popular Charts
Exchange Rates
Other chart sites
Update cookies preferences